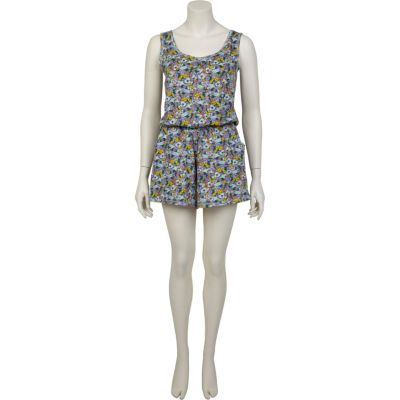 River Island - £19.99
I have been on the hunt for a floral playsuit since the spring/summer collections first came into the stores, and this is the first one I have found that combines both a pretty, all-over floral pattern and thick straps!
I don't really like wearing strapless bras because I never feel... supported, and I can't exactly go without, can I? And I don't like the look of a strapless top with bra straps underneath, so I wanted a playsuit with good thick straps. A lot of them have either no straps or spaghetti straps which would also require me to wear a strapless bra or have my straps out for all to see, so I'm not too keen on those either!
I may well post a look involving this playsuit once the weather picks up (at the moment it is pissing it down in a very British way, so it's not quite suitable weather just yet!)
I apologise for our severe lack of posts lately - if there's anything you would like us to post about, either tweet us @Moonkissed_ or email us at moonkissed@rocketmail.com