I have to say that this is one of my favourite things that has been 'in trend' for a while, it's amazing! Okay so, maybe it's not for everyone (I can't imagine my grandma or little cousin sporting a rib cage t - shirt), but I'm definitely on board!
Here are some highstreet pieces that conform!


Number 1; This isn't necessarily 'clothing' but it's from Topshop and probably the coolest thing I've ever seen! It's a skeleton belly bar at £8.50! Silver, 6.5cm, kinda makes me want mine pierced! So cool!
Number 2; New Look, £7.99, comes in yellow and pink aswell, a sugar skull t - shirt, I think this is cool for the price it is and you could tuck it in to some shorts or a skirt or wear it with jeans, versatile is the wor
Number 3; Skeleton Open Shoulder Tee, Topshop, just £14.00, and very tempting, I really think this will be in my wardrobe as soon as I can fund it, I love it!
Number 4; Black Skull Embellished Tank Top from River Island, £20.00, but really pretty, I think it's lovely!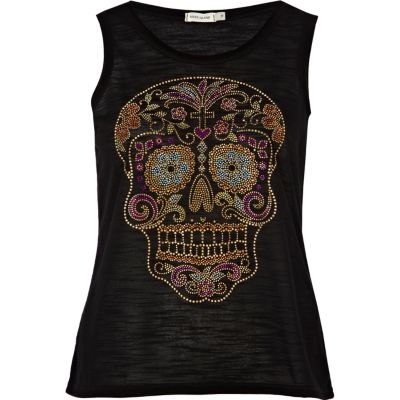 Number 5; Rib Cage Floral Tunic, Topshop, £20.00, a little more girly than the others! It's open back and quite long, I think it's lovely!
Number 6; look at it! Moto Premium Skull Jacket, Topshop, £180.00 admittedly, but oh my goodness, this is so amazing, I'll never be able to afford it, but I'm going to have a good go at making something similar! I wish I could have it, boo!
Number 7; Skull Cross Drops these are so nice, I'm going to get my ears pierced just so I can have them, they come in turquoise too, from Topshop, at £6.50, and the skull is semi precious stone I believe!
Number 8; Rib Cage Vest from H&M, £7.99, comes in black, white and purple, something I definitely want!
Number 9; This skull ring is from Boohoo.com, and is £5.00, I think it's a really nice colour and is a more subtle option!
Number 10; Skeleton tights! I've always wanted some, and since they are considered a 'party costume' you can get them for really cheap prices! For example, from play.com for £3!
Number 11; There's so much cute bone jewellery at Topshop! For example, these Bone Ear Tunnels and Mini Bones Ring for £7.50 each and Bones Necklace for £25.00!
I hope you liked these, cos I think they're amazing! I think this is my first blogpost that may be relatively useful! Congratulations to me!